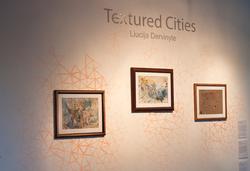 'Textured Cities' is an exhibition featuring art pieces of a Lithuanian textile designer and artist Liucija Dervinytė. It is being exhibited in the Cultural Institute of Baja California (ICBC – Instituto de Cultura de Baja California), Tijuana, Mexico. Liucija's latest collection 'Textured Cities' is inspired by the places she travelled to or lived in. These art pieces are abstract city or country maps filled with their characteristic colours, textures and patterns that the artist personally relates to. The city maps represent her memories, observations and experiences. Each artwork is placed in a recycled frame, which creates an extra story behind it – travelling experience. Liucija hopes to inspire the viewers to change their surroundings, seek new experiences and notice the smallest details in their everyday lives.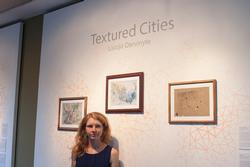 Liucija Dervinytė is a textile designer and artist born in Lithuania in 1989. At the age of 11 Liucija started attending the main art school in her home country, where she was introduced to the arts of painting, sculpture, graphic and product design. Later Liucija went to study textiles in Vilnius Academy of Arts, Lithuania. A year later she moved to Edinburgh, Scotland to continue her bachelor studies in textile design. After the graduation in 2012 Liucija spent four months in Amsterdam, the Netherlands, where she did an internship at an interior textiles studio. This was followed by one year in Liverpool, where the artist started working towards her own brand Liucija Textiles.
At the moment Liucija is based in Tijuana, Mexico, where she continues creating textile products and art pieces. Her work is highly influenced by travelling, folk cultures, nature and urban landscapes. Liucija enjoys exploring new materials and techniques, combining traditional and modern approaches. Right now she mostly works with fabrics and paper, experimenting with dyes, embroidery and patterns.